Julissa Norment discusses upcoming theatre production 'Portraits In Black'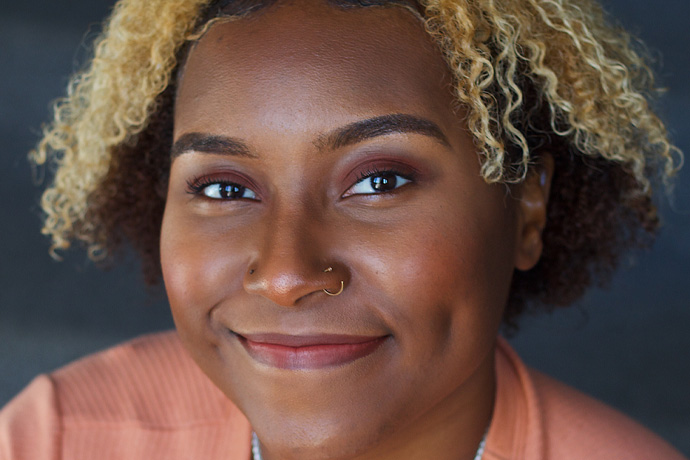 Julissa Norment talks about being a part of the cast of Theatre Wesleyan's upcoming production of Portraits In Black. Norment, a junior theatre major, is also contributing additional material that will be included in the production.
Portraits In Black, a collection of scenes and monologues on the black experience by Gus Edwards, will conclude Theatre Wesleyan's 'Six Plays At Six Feet' semester of fall programming. The production will be presented at the Thad Smotherman Theatre at Texas Wesleyan University (1205 Binkley Street, 76105) from November 20-22. This production will also be available as a live stream for audience members who wish to experience the show from their home.
Julissa, which of the scenes or excerpts in the show is your favorite?
"My favorite is A Pledge, A Promise. It is a raw monologue that exposes a truth that resonated with me during our first read through. It's hard-hitting and powerful. I believe some of the best monologues are the ones that go home with you. You carry it in your spirit someway, and it leaves you thinking 'Yeah...that was something special.'"
Talk about working with D. Wambui Richardson [the artistic director of Jubilee Theatre in Fort Worth], who is serving as the cultural and artistic advisor.
"Wambui Richardson is an amazing creator! He has pushed me and my fellow actors to dig deeper into the subtext of each piece. He has contributed a fresh artistic eye and has been an excellent BIPOC voice to this show on all fronts. As a Black actress, playwright, and designer, it has been an experience I have been looking forward to since I've started theatre. It's an indescribable feeling being in the same space as an experienced creator [who] looks like you and understands what it's like to be one of the few in a crowd of many. I'm blessed to have worked with him, share this production space, and continue to challenge the creative barrier in theatre."
What should audiences expect if they see the show, whether in-person or live stream?
"Audiences should expect untouched-upon truths. These monologues and scenes bridge the gap between Black audiences and other audiences alike; to experience a fresh perspective, live abundantly, and enjoy the complexities of life."
Which Black actors or actresses have inspired you?
"Some Black actors and actresses I draw my inspiration [from]: Uzo Aduba; she reminds me to embrace who I am and never let others mispronounce my name. Kerry Washington and Viola Davis; they are [both] powerhouse women who can play practically any character without question. And the late Chadwick Boseman; he was a saint. He carried himself with grace, he was an extraordinary actor, and an even better human being."
What has the rehearsal process been like so far?
"[What] I've learned throughout this process, is that if you have a story, voice, etc. that needs to be told... FIGHT FOR IT. Whether it's acting, designing, or writing... every story matters. What you are creating today has the potential to impact someone's life. And that is the pleasure I seek in the theatre. And that is what I aim to accomplish for our audiences come opening [night]."
Talk about having some of your original work included in the show.
"Having the opportunity to showcase my work has been a dream come true! For starters, I'm low key having my Lin-Manuel Miranda moment. I am acting in a duet scene with Shanjala, that I wrote. And it's so weird acting and getting off book for a piece I wrote. It's sort of like an out of body experience. But who knows, maybe I'll act in something else I write.
"But I am so elated that I can do all of this through this kind of production. It's a great experience watching my fellow actors perform the pieces I wrote and bring the characters alive from the page.
"It's kind of a funny story because Pro Joe asked if I could write a monologue for a man to perform. And instantly I thought of Kris, and later I told him, 'I wrote this piece with you in mind. And honestly, I believe you're going to kill it!' and he didn't disappoint. I'm happy I have amazing actors that really give each monologue and scene a voice. They are my backbone and make Portraits In Black worthwhile."
PORTRAITS IN BLACK PERFORMANCE DATES
Friday, Nov. 20 at 7:30 p.m.
Saturday, Nov. 21 at 7:30 p.m.
Sunday, Nov. 22 at 2 p.m.
*Times and indoor venue subject to change; please check website for more details and updates.
PORTRAITS IN BLACK LIVE PERFORMANCE INFORMATION
Tickets will be $5 to attend the performance in-person. Tickets are available online at txwes.edu/theatretickets or by calling (817) 531-4211.
Audience members who choose to experience the show in-person are required to wear a mask and follow social distancing guidelines. A limited number of seats will be available for each performance. To maintain the safety of our faculty, staff, students and audience, no seats will be added and we will not accommodate late seating under any circumstances.
PORTRAITS IN BLACK LIVE STREAM INFORMATION
Patrons can choose to buy a streaming ticket to experience the show as a live stream performance for $5 at txwes.edu/theatretickets or by calling (817) 531-4211. Live stream links will be emailed on the day of the performance. Portraits In Black will not be a video-on-demand or rental like our recent streaming production of The Universal Language.
If you have questions, please contact the Theatre Wesleyan office at (817) 531-5867.