Theatre Wesleyan production of 'Rain' selected for American College Theatre Fest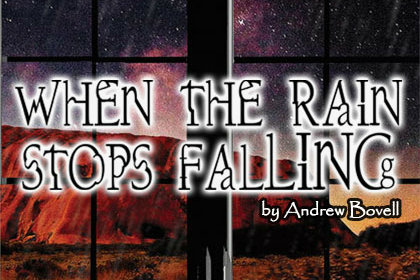 Theatre Wesleyan's production of When The Rain Stops Falling has been selected as an invited production for The Kennedy Center American College Theatre Festival.
The entire production will travel and be performed at select dates to be announced during the Region 6 Festival which will be held March 1-4, 2017 at Angelo State University in San Angelo, Texas. Region 6 states include Arkansas, Louisiana, New Mexico, Oklahoma, and Texas.
The Kennedy Center American College Theatre Festival (KCACTF) is a national organization that exists to celebrate the educational and creative process of university and college theatre. KCACTF promotes professional standards and provides students and faculty with opportunities to bridge the academic and professional worlds. KCACTF honors achievements in diversity and excellence and encourages experiences in all areas of theatre.
When The Rain Stops Falling opened on Sept. 22, 2016 and was directed by Theatre Department Chair, Bryan Stevenson. The cast included: Raied Makhamreh (Gabriel Law), Alfredo Tamayo (Joe Ryan), Trey Cardona (Andrew Price), Dean Phillips II (Gabriel York), Richard Hunter Givans (Henry Law), Abbie Hancock (Gabrielle York - Younger), Clarissa Murillo (Gabrielle York - Older), Kimberly Owen (Elizabeth Law - Younger), and Amanda Fitzgerald (Elizabeth Law - Older).
The production team included: assistant direction by Michelle Phillips, stage management by Jackie Puga, assistant stage management by Kaitlin McGehee and Kaitlin Hatton, scenic design by Tobin Griffin, assistant scenic design by John Traxler, lighting design by Colton Mallory, assistant lighting design by Christina Carter, sound design by Jorge Flores, costume design by Tyler Guse, properties design by Holli Price, and publicity design by Michelle Phillips.
Revisit the production with our online photo gallery.
Theatre Wesleyan's previous invitation was for the 2014 production of the student-written play, In and Between by Logan Rodgers, which received numerous state, regional, and national awards and recognition.