Theatre students reflect on Six Plays At Six Feet fall semester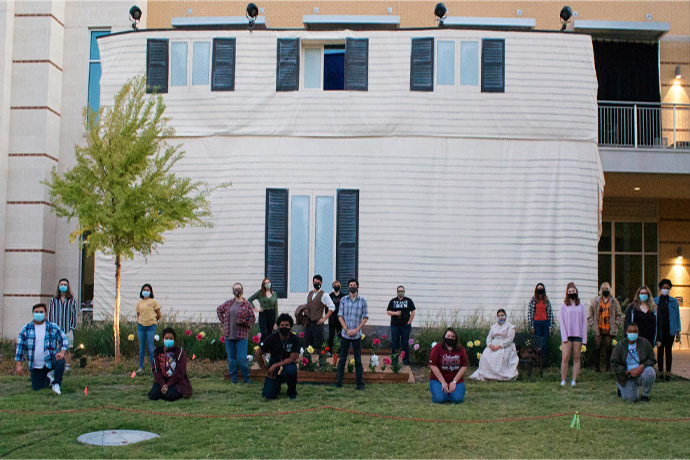 Theatre Wesleyan recently concluded their Six Plays At Six Feet fall 2020 semester of programming. The semester included a show filmed live exclusively for streaming (The Universal Language, September), two that were staged outdoors (At A Distance and Vintage Hitchcock: A Live Radio Play, October), and three that were traditionally produced in the Thad Smotherman Theatre (Eurydice, October; Gruesome Playground Injuries and Portraits In Black, November). This semester, theatre department students logged over 4,000 combined production hours working on the six productions.
Students reflected on their experience and discussed the value of working on live theatre productions during the pandemic, as well as the challenges they faced when working on six plays in one semester. Read the student responses below.
The spring 2021 semester of theatre production programming will be announced at a later date. Consider contributing to the annual Wesleyan Encore Scholarship. Wesleyan Encore was founded in 2002 and is a group of university alumni who participated in theatre productions during their years at Texas Wesleyan. Their goal is to support Theatre Wesleyan by promoting its productions and awarding an annual scholarship to deserving theatre students.
"Slowly being able to do live theatre in person again safely is giving people hope that everything will go back to normal some day. Right now we need that little bit of hope in our [lives]."
Rebeka Chavez, sophomore theatre major
Roles/Positions: stage manager of At A Distance
"This year has been tough on everyone and I would say Theatre Wesleyan has done a splendid job working with the accommodations. Doing six shows in a semester is hard work. I'm so glad that we could still work and perform. The professors are working so hard to make sure we succeed and I appreciate them for that. These are memories that I will cherish."
Shanjala Davis-Allen, senior theatre major and December 2020 graduate
Roles/Positions: cast member in Portraits In Black
"While not being a traditional first semester here at Texas Wesleyan, my year has been filled with so many joyous and memorable moments. Being able to be back in an in-person environment while also being socially distanced has been the absolute highlight of the year. Doing live theatre again has shown me that theatre is forever changing and that artists like us can always find a way to adapt to our environment no matter what. We all know that one day this is all going to be over, but until then, I know that Theatre Wesleyan will stop at nothing to tell so many more amazing stories to make this hectic school year a whole lot better. "
Ethan Brandt, first-semester sophomore theatre major
Roles/Positions: cast member in Vintage Hitchcock and Eurydice, camera operator of Gruesome Playground Injuries
"Doing live theatre during COVID times was interesting, to say the least. [...] We adapted to our situations by finding amazing and creative ways to distance actors and distance the audience so we could give a unique way of performing live theatre. While rehearsing for these shows we always had to make sure to distance and wear our masks properly so we wouldn't be violating the CDC guidelines, and I'm going to admit that was tough because our impulses tell us to do our normal, but we had to adapt to the new normal. It felt great to be able to do live theatre in creative ways during very difficult times."
Nicholas Keel, freshman theatre major
Roles/Positions: cast member in Eurydice
"I really loved working on the two shows I did for Six Plays At Six Feet. I think that the entire department did an amazing job at keeping students, faculty, and audience members safe while still producing great theatre. As a transfer student I was worried about how we would do the shows and how involved we would get to be, but I thought doing multiple shows made for great opportunities for everyone in the department and allowed us to learn, adapt, and continue doing what we love, safely."
Kirsten Wagner, junior theatre major and new transfer student
Roles/Positions: cast member in At A Distance and Gruesome Playground Injuries
"Incredible feat at six feet! I was excited, yet a bit apprehensive, about transferring to Texas Wesleyan this fall in the wake of COVID-119. As a nontraditional student who is immunocompromised, I had some definite concerns regarding my safety but decided I would move forward with attending classes on campus. I am so glad that I did. The experiences I have had this semester have provided me with the knowledge that I wouldn't have been able to have in an exclusively online format. I am grateful for the efforts of the faculty and staff in providing a safe learning environment in the midst of a pandemic and for producing shows that had depth and were thought-provoking [...] My time at Texas Wesleyan will be one I will not forget.
Lori Ann Coughlin, junior theatre major and new transfer student
Roles/Positions: cast member in Vintage Hitchcock: A Live Radio Play and assistant stage manager of Gruesome Playground Injuries
"If I must speak at all on my experience in the Six Plays, then I do so with overwhelming pride for those involved. Every play we've done, from At A Distance (whose name, as an audience member, behooves it) to the intimate Gruesome Playground Injuries reconstructs theatre during COVID-19 in spectacular fashion. We even faced challenges during Eurydice, the first show to return to the Wesleyan stage, and when we met and surmounted those challenges, the show was a triumph. Six Plays At Six Feet has shown how Theatre Wesleyan stages performance in bold, confident ways each time, and proves true the old adage, 'the show must go on.'"
Jonathan Burt, sophomore theatre major
Roles/Positions: cast member in Eurydice