Theatre Wesleyan reveals 2017/18 season lineup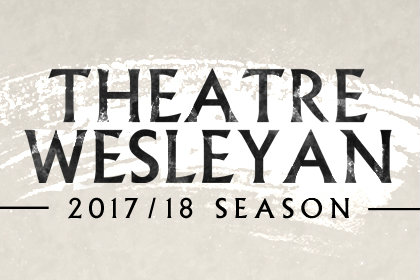 Theatre Wesleyan is thrilled to announce their 2017/18 season lineup.
One classic play, a rock musical, a new comedy fresh from off-Broadway, and a classic Rodgers & Hammerstein musical will round out the next season of shows at Texas Wesleyan University's Department of Theatre.
Upcoming Theatre Wesleyan productions:
Blithe Spirit by Noël Coward (September 2017)
Directed By Connie Whitt-Lambert

The smash comedy hit of the London and Broadway stages, this much-revived classic from the playwright of Private Lives offers up fussy, cantakerous novelist Charles Condomine, re-married but haunted (literally) by the ghost of his late first wife, the clever and insistent Elvira who is called up by a visiting "happy medium", one Madame Arcati. As the (worldly and un-) personalities clash, Charles' current wife Ruth is accidentally killed, "passes over", joins Elvira and the two "blithe spirits" haunt the hapless Charles into perpetuity.
"Can still keep an audience in a state of tickled contentment" - The New York Times
"A world-class comedy" - TheatreMania
Presented by special arrangement with Samuel French Publishing Company, Inc.
Spring Awakening
(November 2017)
Music by Duncan Sheik
Book and Lyrics by Steven Sater
Directed by Emily Cherry
The winner of eight Tony Awards, including Best Musical, told by Duncan Sheik and Steven Sater through what Entertainment Weekly called, "the most gorgeous Broadway score this decade," Spring Awakening explores the journey from adolescence to adulthood with a poignancy and passion that is illuminating and unforgettable. The landmark musical is an electrifying fusion of morality, sexuality and rock and roll that is exhilarating audiences across the nation like no other musical in years.
"Brilliant and beautiful." - New York Magazine
"Broadway may never be the same! This brave new musical, haunting and electrifying by turns, restores the mystery and the thrill to that shattering transformation that stirs in all of our souls." - The New York Times
"An unexpected jolt of suden genius! A groundbreaking must-see musical sure to wake up Broadway!" - New York Post
Presented by special arrangement with Music Theatre International.
Important Hats of the Twentieth Century by Nick Jones (February 2018)
Directed By Bryan Stevenson
Sam Greevy is the toast of 1920s women's apparel until the maverick fashion designer Sam Roms springs his radical creations on the world. The Sweatshirt, The Track Suit, Skater Pants: the clothes he comes up with are as from another dimension, and maybe they are. As Greevy tries to adapt to rapidly changing fashions, a parallel drama unfolds in Albany, circa 1998: a teenager stoner keeps losing articles of clothing, and a man keeps bursting out of his closet and taking them.
"Jones hilariously employs the clichés of Hollywood sci-fi and disaster films, complete with pseudoscientific jargon, a deranged villain, and an epic final battle in which the time-traveling convention really gets a workout. It's unapologetically silly fun..." - TheatreMania
"Part sci-fi parody, part Ayn Rand spoof and 100% screwball comedy, Important Hats...leaves no punchline unpunched." - The Wall Street Journal
"One of the most delightfully original comedies to show up in these parts for far too long a stretch." - The Huffington Post
Presented by special arrangement with Samuel French Publishing Company, Inc.
The 64th Annual Spring Musical: OKLAHOMA! (April 2018)
Music by Richard Rodgers
Book and Lyrics by Oscar Hammerstein II
Directed by Jeanne Everton
Set in a Western Indian territory just after the turn of the century, the high-spirited rivalry between the local farmers and cowboys provides the colorful background against which Curly, a handsome cowboy, and Laurey, a winsome farm girl, play out their love story. Although the road to true love never runs smooth, with these two headstrong romantics holding the reins, love's journey is as bumpy as a surrey ride down a country road. That they will succeed in making a new life together we have no doubt, and that this new life will begin in a brand-new state provides the ultimate climax to the triumphant OKLAHOMA!
"Calling Rodgers and Hammerstein's OKLAHOMA! a classic American musical is an understatement. Like Grant Wood's 'American Gothic' and Mark Twain's novels, or George Gershwin's 'Rhapsody in Blue' and Chuck Berry's rock 'n' roll, OKLAHOMA! is firmly embedded in the canon of America's greatest cultural creations." - Wichita Eagle
"A masterpiece... Rodgers and Hammerstein are truly up there with Eugene O'Neill as the great American theatre creators." - New York Post
"If ever a show earned its exclamation point, it's this one!" - Wall Street Journal
Presented by special arrangement with The Rodgers and Hammerstein Organization.
Ticket information:
Season tickets will be available soon by visiting the Theatre Wesleyan website, the online box office, or by calling (817) 531-4211. Each season ticket will admit one to all four mainstage productions in Theatre Wesleyan's 2017/18 season.
Current and incoming students may have the opportunity to read these scripts in preparation for auditions and to apply for design positions. The collection of all four mainstage scripts will be available at the West Library for 2-hour in-house reserve. Also, students may come by the Theatre Wesleyan business office during regular and/or summer hours to read the collection. All four scripts are also available for purchase through the publisher or on Amazon.
For more information about Theatre Wesleyan or the 2017/18 season, please visit our website, send us an email or call the office at (817) 531-5867.