Tickets now available for upcoming comedy at Theatre Wesleyan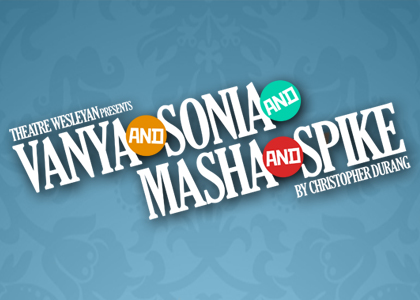 Three siblings, one hot mess. Theatre Wesleyan at Texas Wesleyan University continues their season and kicks off 2017 with Vanya and Sonia and Masha and Spike By Christopher Durang, the "deliriously funny" play that received the 2013 Tony Award® for Best Play!

To purchase tickets, please call 817-531-4211 or purchase online at the Theatre Wesleyan website. To arrange groups (7+) or for high schools interested in post-show talkbacks and backstage tours, please call the Box Office. The show is recommended for ages 14 and up.
For full performance schedule and box office information, please visit the VSMS page of our website.
View the cast list and production team
Free tickets for Texas Wesleyan students are provided by the Student Government Association for the Student Theatrical Experience Fund. To redeem the free tickets, Wesleyan students may use the code "STEF" at checkout but must provide their Student ID when picking up tickets or pick up a STEF card at the Box Office.
The Texas Wesleyan Student Theatrical Experience Fund (STEF), a joint partnership with the Student Government Association (SGA) and Theatre Wesleyan, will be available to students for the 2016-17 season. This fund will be active through the online Theatre Wesleyan Box Office and in-person at the Theatre Wesleyan business office in Dan Waggoner Annex.
The STEF allows students to see Theatre Wesleyan productions at no cost to them. Tickets purchased through the Student Theatrical Experience Fund are only available for Texas Wesleyan University students. Students from other schools or universities may purchase a ticket at the full price of $5 if they show their ID at the Box Office.
Instructions on how to obtain your free student ticket through The STEF:
In Person at the Theatre Wesleyan Box Office
Visit our check-in table in the main lobby to receive a STEF Card.
Present the STEF Card and your student ID to the box office staff to redeem your free ticket.
Online Theatre Wesleyan Box Office Instructions
Go to the Online Box Office website.
Select the performance date you wish to attend.
Select "General Seating - Students" (Only 1 individual student ticket per order).
Use the code STEF at checkout.
Pick up your ticket on the day of the show, beginning one-hour before the show at the Thad Smotherman Theatre.
Wesleyan students must present their ID to qualify for the free ticket, otherwise, they will be charged for a full-priced $5 student ticket.