Theatre presents "A Funny Thing Happened on the Way to the Forum"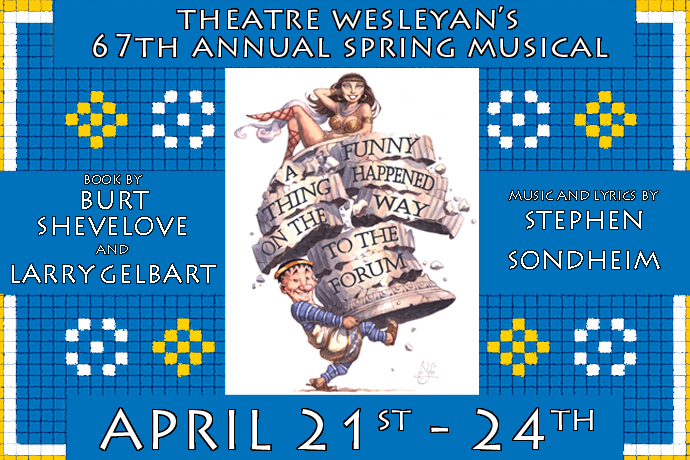 When:
Apr 21, 2022 7:30 PM - Apr 21, 2022 9:30 PM
Where:
Law Sone Fine Arts Center/Thad Smotherman Theatre
Theatre Wesleyan is proud to present a Sondhiem classic!
"A Funny Thing Happened on the Way to the Forum"
Theatre Wesleyan's 67th Spring Musical
Music and lyrics by Stephen Sondheim
Book by Burt Shevelove & Larry Gelbart
Directed by Jeanne Everton
Musical Direction by Michael Plantz
In exchange for his freedom, Pseudolus, a crafty slave, must win the hand of the gorgeous courtesan, Philia, for his master. With one thing leading to another, the whole ordeal becomes a complete farce! Neither Greek nor bleak, this is Ancient Rome meets vaudeville! Join us for a night of nonstop laughter!
7:30 p.m. on April 21
Thad Smotherman Theatre/Law Sone Fine Arts Center (1201 Wesleyan Street, 76105)
Part of the Theatre Wesleyan Spring 2022 Season
ATTENTION ALL TEXAS WESLEYAN STUDENTS
Thanks to Texas Wesleyan Student Life, all current Texas Wesleyan students may see this production for FREE!
On the day of the performance, you must show your current Wesleyan ID in order to pick up your free ticket.
Purchase your ticket at www.txwes.edu/theatretickets or call 817-531-4211.