Check out this year's Alumni Reunion schedule April 19-21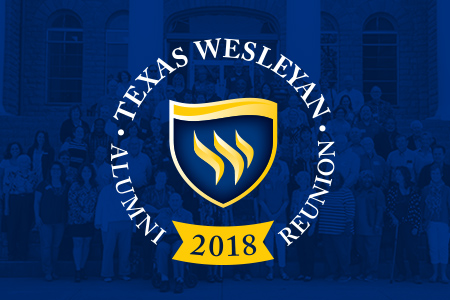 The 2018 Alumni Reunion is set for April 19-21 and is full of fun and exciting events for everyone! Check out the schedule of events below:
Thursday, April 19
Martin University Center Groundbreaking Ceremony – 4:30 p.m.
Friday, April 20
2nd Annual TXWES Football Fundraiser Golf Tournament – 12 p.m., Canyon West Golf Course (Weatherford, TX 76087) Separate registration form coming soon
Ramily Reunion Barbeque – 6 p.m., Cooper's Old Time Pit Bar-B-Que (301 Stockyards Blvd., Fort Worth)
Saturday, April 21
All-Alumni Breakfast: Honoring Alpha Chi & Golden Shears – 8:30 a.m., Baker Building
Residence Hall Tours – 10 a.m., Dora's Dining Hall
TXWES Scavenger Hunt – 10-11 a.m., West Library
Washer Tournament – 11 a.m., Sid Richardson Gym
Decade-Themed Lunch – 12 p.m., Sid Richardson Gym
Rams Baseball Game – 12 & 2 p.m., Sycamore Park (2525 E Rosedale St., Fort Worth)
Blue & Gold Football Scrimmage – 2 p.m., Farrington Field (1501 University Dr., Fort Worth)
TXWES Art Bash – 5 p.m., Bernice Coulter Templeton Art Studio (1415 E. Vaughn St.)
School of Education Reception – Location and time TBD
64th Annual Musical Oklahoma! – 7:30 p.m., W.E. Scott Theatre (Fort Worth Community Arts Center, 1300 Gendy St.)
Afterglow – 9:30 p.m., Fort Worth Community Arts Center (1300 Gendy St.)
Interested in any of the above events? Get more details and register today.
If you're looking for the Wesleyan 5K registration, please note that the event has moved and will be held during Homecoming in the fall. Save the date for Nov. 3, 2018.