Birge named executive assistant to VP for enrollment, marketing & communications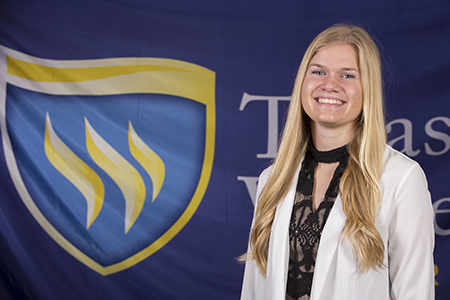 Heather Birge joined the Office of Enrollment, Marketing & Communications at Texas Wesleyan University as the new executive assistant to the vice president for enrollment, marketing & communications. In her new role, Birge will provide a diverse range of administrative assistance and services to support the entire department.
"We are thrilled to have Heather on board," John Veilleux, VP for enrollment, marketing & communications, said. "She is an extremely sharp, driven individual, and is a great fit for our talented team."
Birge, a recent graduate from Texas Wesleyan, received her bachelor's degree in mass communications while playing tennis for the Rams. She plans to begin her MBA at Texas Wesleyan in August 2017.
"It is exciting to transition from a TXWES undergrad student to employee and graduate student," Birge said. "As part of the team, I hope to not only provide administrative support, but to also learn everything I can about college admissions, marketing and communications. This is a great opportunity for me."
Aside from work, Birge enjoys working out, exploring and trying new places to eat.