Kati Spurrier joins marketing team as admissions marketing specialist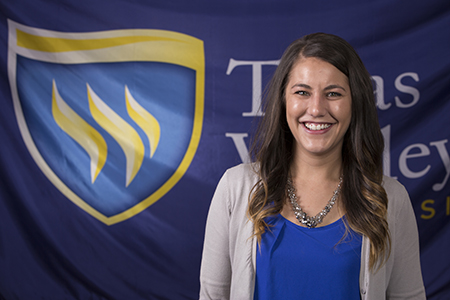 Texas Wesleyan University welcomes Kati Spurrier as the new admissions marketing specialist for graduate programs. As the newest member of the marketing & communications team, she will be helping build streamlined communication, digital marketing and strong brand presence for the graduate programs. She will focus on the launch of exciting new Texas Wesleyan initiatives such as the online MBA and Family Nurse Practitioner programs.
"Kati's extensive marketing experience and drive made her stand out from other candidates," Shannon Lamberson, director of marketing for graduate programs, said. "She is going to play a key role in developing a strong marketing presence for the graduate programs."
Spurrier, who has more than eight years of experience in the marketing field, spent the past few years in the pharmaceutical global marketing division at Alcon Laboratories. While there, she managed an $11 million dollar consumer marketing campaign. Her strategic vision and creative campaign management resulted in an increase in both profit and market share.
Spurrier is a Fort Worth native who grew up less than ten miles away from Texas Wesleyan. She graduated with her bachelor's degree in marketing & finance from Seton Hall University in South Orange, NJ. And in her spare time, she enjoys the live music and good food in the Fairmount District.