Neph Rivera named communications and public relations manager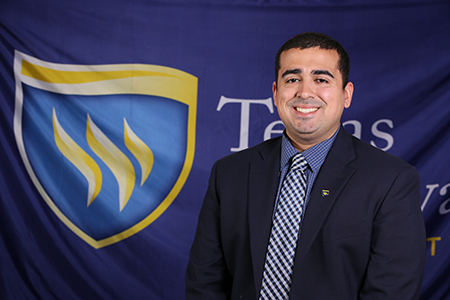 Texas Wesleyan University has tapped Neph Rivera as its new communications and public relations manager.
Neph will be expanding his role in the Office of Marketing & Communications by developing comprehensive communications, public relations and crisis communication strategies, all to promote Texas Wesleyan's public image and reinforce its award-winning Smaller. Smarter. brand.
"I have spent the last two and a half years helping tell the stories that make Texas Wesleyan the Smaller. Smarter. community it is," Rivera said. "I am excited and honored to continue doing just that in an expanded role on a campus unlike any other."
Rivera will also serve as the primary day-to-day contact for media inquiries and will continue to work with various university departments to identify stories for promotion.
"Neph's communication and media expertise have been, and continue to be, invaluable in the face of this pandemic," said Shannon Lamberson, AVP or Marketing and Communications. "Neph is an integral part of our team and as he turns his full attention to public relations and communications, he will be able to bring that experience and talent to keeping Texas Wesleyan and the great things happening here on the front page."
Rivera joined Texas Wesleyan in May 2018 after spending more than five years in local television news, most recently at KTVT CBS 11 in Dallas-Fort Worth. He received his B.S. in broadcast journalism from Syracuse University in 2012 and is currently pursuing his MBA at Texas Wesleyan.