Rueben D. Gonzales joins marketing team as creative services manager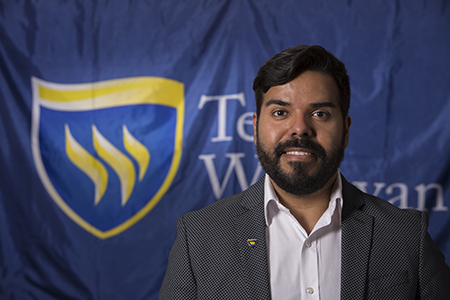 Rueben D. Gonzales has been selected as the new creative services manager for the marketing & communications department.
In his new role, which he began June 1, Rueben oversees the operation of the marketing and communications office's creative production services. He also manages projects, production of creative content, advertising and promotional materials, and also advises client-produced creative works toward best practices.
As creative services manager, Rueben will be the point person in the marketing office for all customers. Using marketing's project management system (ProWorkflow), Rueben will ensure that the customer experience is that of the highest quality when providing innovative solutions and direction for marketing projects.
Including more than three years as marketing coordinator at the Meadows School of the Arts at Southern Methodist University in Dallas, Rueben has more than seven years working in higher education and non-profit institutions.
"Rueben's creative skillset and project management background made him stand out among other candidates," Darren White, associate vice president of marketing and communications, said. "We are excited for him to bring these skills to this position."