Cupcakes, Marketing and Communications Feb. 19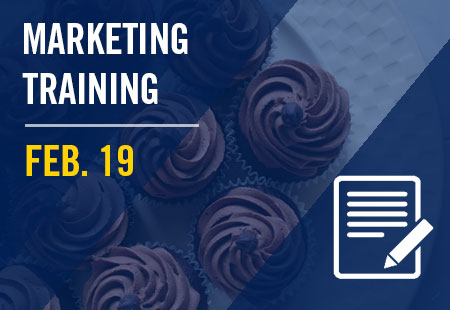 If you have a project and don't know where to start, we've got a few reasons why attending this training will help you manage your marketing.
1. Apply strategic thinking
Brainstorming is the first step to marketing success. Learn the questions to ask yourself to attain your goals and have a productive project.
2. Be a Pro Workflow expert
Find out what you need in order to communicate your project request succinctly to the Marketing department. This is how we know how to help you.
3. Manage your project timeline
Learn the various levels for digital and print projects that will inform your timelines.
4. Empower yourself
Find the tools you need to create a project when your deadline was yesterday.
Rueben Gonzales from Marketing and Communications will hold an information session on Feb. 19 from 3:30-4:30 p.m. in the Orientation room in the West Library. Cupcakes by Stir Crazy Baked Goods will be served.
Register to let us know that you're coming. Seating is limited to 25.
Have any questions? Contact Rueben Gonzales, creative services manager, at ruebengonzales@txwes.edu or 817.531.7514.