Charles Martin celebrates 20 years at Texas Wesleyan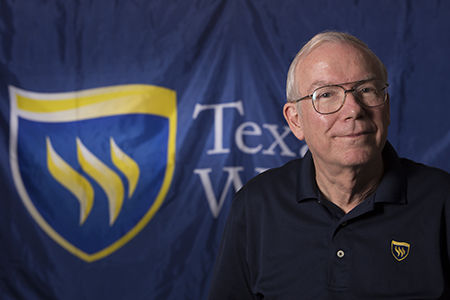 Do you remember where you were in 1995? The average cost of a gallon of gas was $1.09 and postage stamps were 32 cents. It was the year Forest Gump won the Academy Award for Best Picture and the O. J. Simpson trial captivated audiences.
It was also the year that Charles Martin, media and classroom technologist, first joined the Texas Wesleyan family as media coordinator.
"Back then, we [Texas Wesleyan] had one computer lab with five computers," Martin said. "If you wanted Internet access, you had to use a dial-up modem."
Martin also recalls that there were only two video projectors on campus, and now, there is one in every classroom.
To say that technology has changed in the last 20 years is an understatement.
What hasn't changed? Martin's dedication to Texas Wesleyan and his commitment to serving the technology needs of faculty, staff and students.
"It would be hard for us to function on a daily basis without Charles," Gerry Nichols, media and classroom support manager, said. "He loves his job — which shows in his work and the way he interacts with everyone on campus."
Today, Martin can be found setting up a GoPro camera for underwater graduation or filming and editing commencement videos — quite different than the VHS recorders of the nineties.
"Our department has evolved a lot in 20 years but one thing has stayed the same - we know we can always depend on Charles," Nichols said.
Want to help the IT department congratulate Charles for his years of service? Send him an email.