Theatre major Rebecca Nagle discusses 'The Hostage,' opening Nov. 1
Theatre major Rebecca Nagle plays Miss Gillchrist in Theatre Wesleyan's upcoming production of The Hostage by Brendan Behan, opening on Thursday, November 1.
This unique musical and theatrical experience tells the story of a man in the Irish Republican Army who is to be hanged, and a British soldier held hostage by a "band" of characters in a Dublin lodging house. This production contains some adult language, loud sound effects (including gunshots and explosions), as well as simulated smoking.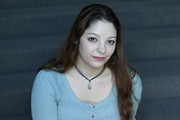 Rebecca Nagle
Your Classification: Senior
Describe Your Character In 3 Words: Roaring Drunk Hypocrite
Talk About Learning An Accent in the Show: I'm using an Irish accent, it was a bit tricky to learn at first, but once you break it down it becomes easier.

Do You Play An Instrument in the Show: I'm playing the violin in the show. I learned to play in middle school and haven't picked it up in six years, so I had to "relearn" it.
Your Favorite Song in the Show: "Only a Box of Matches"
Why Audiences Will Enjoy The Show: The audience will enjoy the music and the comedy throughout it. You never know what's going to happen next!
What's Your Favorite Line In The Show?: "I had my voice trained by an electrocutionist."
Tickets are now available at the Theatre Wesleyan website. For more information regarding group ticket sales at a discounted rate, please contact the Box Office at 817-531-4211 or via email at theatre@txwes.edu.
How do TXWES students get their free ticket?
In Person at the Theatre Wesleyan Box Office
Present your Student ID to the Box Office Staff to redeem your free ticket.
Online Theatre Wesleyan Box Office Instructions
Go to the Online Box Office website.
Select the performance date you wish to attend.
Select "GENERAL - Students" (Only 1 individual student ticket per order).
Use the code SGA at checkout. You will receive a "receipt" via email.
Pick up your ticket at Will Call on the day of the show, beginning one-hour before the show.
Wesleyan students must present their ID to qualify for the free ticket, otherwise, they will be charged for a full-priced student ticket.