Are you wondering where Texas Wesleyan is? Check out a map of campus and get to know our neighborhood a little bit. We'll meet you on campus.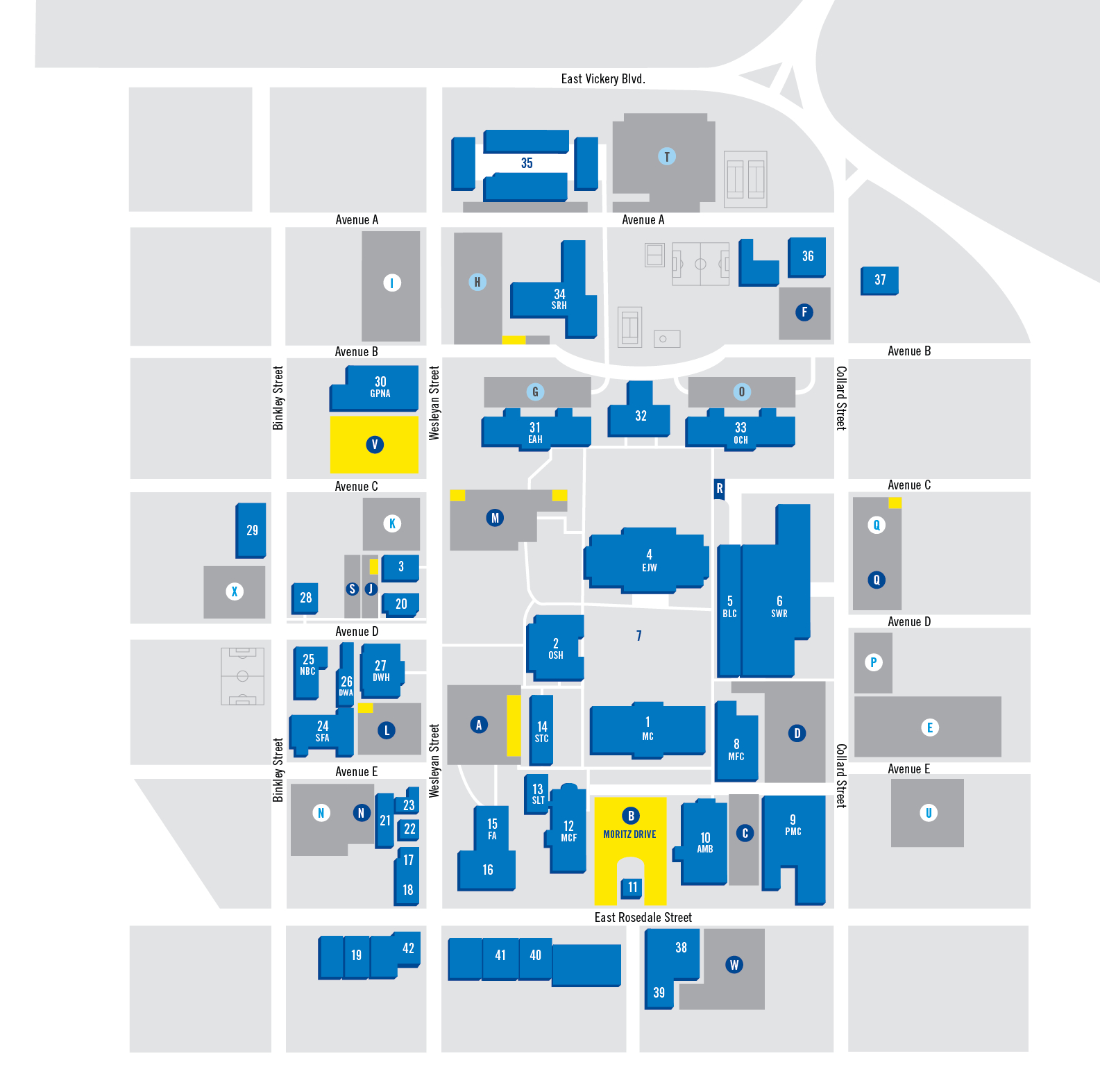 Nick & Lou Martin University Center:
- Amon G. Carter Welcome Center
- Admissions
- Career Services
- Campus Bookstore
- Gina's Café
- Paul and Judy Andrews Hall
- Student Affairs
Oneal-Sells Administration Building:
- Administrative Offices
- Advancement & Alumni Relations Office
- Financial Aid/V.A.
- Financial Services
- Human Resources
- Institutional Research
- Purchasing
- Registrar
Lou's Place
Eunice and James L. West Library:
- Academic Success Center
- CETL
- Copy Center
- IT Service Desk
- Mailroom
- Marketing & Communications
Brown-Lupton Campus Center:
- Athletic Offices
- Residence Life
- Weight Room
Sid W. Richardson Center
Campus Mall
Jack and Jo Willa Morton Fitness Center
Polytechnic United Methodist Church:
- Bobby Bragan Fellowship Hall
- Chaplain's Office
Armstrong-Mabee Business Center
Canafax Clock Tower
Ella C. McFadden Science Center
Science Lecture Theatre
Ed and Rae Schollmaier Science and Technology Center
Ann Waggoner Fine Arts Building
Nicholas Martin Hall
West Express Eatery
Baker Building
Subway® Sandwiches

Baker-Martin House
The Language Company
The Language Company
The Language Company
Law Sone Fine Arts Center/
Thad Smotherman Theatre
Nenetta Burton Carter Building
Dan Waggoner Hall Annex:
- International Programs
- Dean of Freshman Success
Dan Waggoner Hall
Glick House:
- Security
Claudia Stepp Scene Shop
Nurse Anesthesia
James C. Armstrong & Elizabeth
Means Armstrong Hall
Dora Roberts Dining Hall
James C. Armstrong &
O.C. Armstrong Hall
Stella Russell Hall
West Village Student Apartments
Facilities Center
Facilities Storage
United Methodist Conference Center
Bernice Coulter Templeton
Art Studio
Jack Morton Business Accelerator
Community Counseling Center
Ben's Triple B
Driving Directions
Finding us is easy! Plug in the address of where you're coming from and get directions to our campus. If you have any problems, feel free to let us know.