Allen H. Henderson, Ph.D.,
Provost & Senior Vice President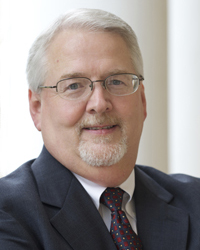 Dr. Allen Henderson is the provost & senior vice president and professor of psychology at Texas Wesleyan University. He received his Ph.D. in Social Psychology from the University of Houston and his Master and Bachelor degrees from East Texas State University (now Texas A&M Commerce).
Since coming to Texas Wesleyan in 1979, he has served as associate provost, chairperson of the psychology department, director of the pre-professional studies program, dean of the school of education and twice interim provost.
Administrative and Academic Expertise
Dr. Henderson's current administrative responsibilities include:
Accreditation oversight
Budget management
Community relations
Grants coordination
Operations management
Overseeing the university academic programs,
Strategic planning
His teaching responsibilities have included undergraduate and graduate courses in psychology and education. His academic areas of specialization are in social and health psychology.
Awards and Recognition
Dr. Henderson has received several prestigious awards including:
Individual Volunteer Award - Adopt-A-School program (1987)
Life Saver Award - American Cancer Society national chapter (1987)
Outstanding Volunteer Award - Mental Health Association of Tarrant County (1987)
Wesleyan Campus Flame Award (1993)
University Service Award – Texas Wesleyan (1994)
Ruby Pin Award for Educators - Texas Division of the American Cancer Society (1994)
Earl Brown Distinguished Faculty Award – Texas Wesleyan (1995)
Volunteer of Year - Tarrant County (2000)
Santa Fe Counseling Center Ally of the Year (2000)
St. George Medal – American Cancer Society national chapter (2009)
Helmsman Award - American Cancer Society High Plains Division (2009)
Guardian of the Golden Shears – Texas Wesleyan (2010)
Serving the Community
Dr. Henderson has an outstanding history of community involvement:
American Cancer Society's High Plains and Texas Division Executive Board (12 years)
Board of Gateway School (1994-2001)
Fort Worth/Tarrant Unit of the American Cancer Society Board Member (20 years)
Founder/Board member - North Texas Courage and Renewal (2002-2009)
Initiated Leadership Wesleyan (1994)
Named a Fellow for the Fort Worth Independent School District Adopt-A-School program (1989)
Program Evaluator - Fort Worth ISD Alternative Schools, Reading Initative (1996-1998)
Program Evaluator - Fort Worth Child Study Center/Cook Childrens' Medical Center, Case Worker Dental Project (1999-2000)
Tarrant County United Way Stay-In-School Task Force (1990-1992)
William James Middle School and Versia Williams Elementary School Management Team (2002-2006)
Additionally, from 1994-1997, Dr. Henderson received three United Way grants for the KUUMBA Project, a community partnership program designed to enhance the learning opportunities of at-risk students from the Butler/Riverside Communities. The project was a partnership with such groups as YWCA, Campfire, Girl Scouts, Fort Worth Housing Authority, IBM, Youth Sports Council of Tarrant County, Fort Worth ISD and Texas Wesleyan University.