3-time Paralympic medalist Pam Fontaine is headed to Rio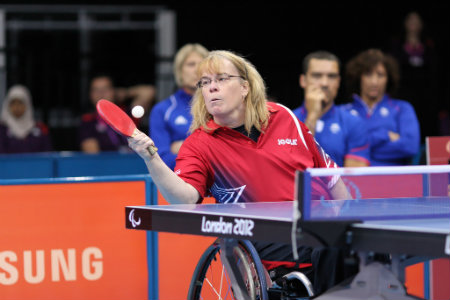 Texas Wesleyan has a gold medalist in its midst.
Pam Fontaine, 3-time Paralympic medalist and Texas Wesleyan adjunct faculty member, is representing Team USA for the 5th time at the Paralympic games in Rio de Janeiro, Brazil. She will be competing in the table tennis singles event.
"I am blessed and honored to have the opportunity to represent my country for the 5th time at the Paralympic games," Fontaine said. "It is so difficult to qualify – so many would like to have this opportunity! I am very lucky and excited."
Fontaine says that for these games, she is feeling even more prepared than in years past.
"I don't feel as anxious or as nervous as I have in the past. I am more advanced in my training and my mental approach is a little more solid," Fontaine said.
Fontaine has won a gold, a silver and a bronze medal in her four previous Paralympic bids. In 1984, she won the silver medal in the table tennis team event. In 1988, her performance earned a gold in wheelchair basketball, followed in 1996 by a bronze in wheelchair basketball.
The Paralympic games will be broadcast on NBC and NBC Sports Network, Sept. 7-18. Live online coverage can be found on teamusa.org.
Competitive by nature
Fontaine has been a competitive wheelchair athlete for 35 years. Prior to the automobile accident at 16 years of age that left her wheelchair bound, she played basketball and softball in high school. One month after she got out of the hospital she played in her first wheelchair basketball practice and never looked back. She pursued track and field and table tennis to strengthen her to play basketball, the sport she loved the most. She excelled quickly at table tennis and played competitively from 1982-84, culminating in winning the silver medal at the '84 Paralympic games.
She then decided to take a break from table tennis and attend Wright State University in Dayton, Ohio. There she became the first female to become part of the men's intercollegiate wheelchair basketball team. She decided to focus on basketball, and her 1988 and 1996 Paralympic medals followed. During those years, she became a mother to her two sons, Matthew now 23, and Mark, 22.
Long-time Texas Wesleyan roots
In 2006, Fontaine was contacted by Texas Wesleyan's legendary table tennis coach, Jasna Rather, to participate in the inaugural wheelchair college table tennis nationals. She agreed to participate and made it to the finals. Competitive by nature, Fontaine was very upset that she had lost in the final round. She says the loss was a turning point for her, and it led her to the decision to turn her attention back to table tennis. Texas Wesleyan table tennis coach Keith Evans began coaching her in 2007. From January 2015, coach Anastasiia Rybka coached Pam Fontaine and prepared her for 2015 Parapan Games where she won gold and qualified for 2016 Paralympics. Coach Rybka continued to coach Pam and is preparing her now for 2016 Paralympics.
She has been an adjunct faculty member in the Kinesiology department since that time, teaching many different classes, including Adapted P.E., Coaching Methods, Basic Concepts of Health and Weight Training. She has also assisted in coaching the Texas Wesleyan Table Tennis Team – a team that has won 12 of the last 13 national championships.