First Blue and Gold Day of 2015 boasts strong turnout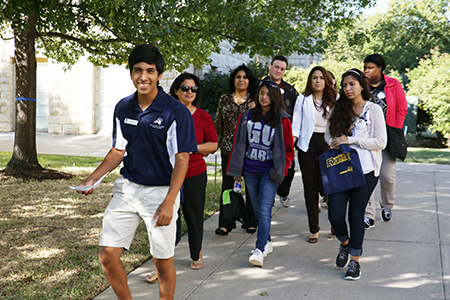 Saturday, Jan. 17 was the university's first Blue and Gold Day of 2015. The event boasted another strong turnout - 84 people, including 37 prospective students.
"More and more students are coming to see what 'Smaller. Smarter' is all about," said Trent Sandles, campus visit coordinator. "It was a great event for prospects – they truly feel welcomed to the Ram Family."
The university's next Blue and Gold Day is scheduled for Saturday, March 21.
Blue and Gold Day is one of the ways potential students can get a feel for "Smaller. Smarter." by visiting the campus and learning more about the Texas Wesleyan experience. Students and their guests meet with campus groups including Admissions, Financial Aid, Residence & Student Life, Career Services and faculty.
Bolstering recruitment efforts and revitalizing the campus visit experience are part of Texas Wesleyan's 2020 Strategic Vision.