Top 3 reasons to submit your application early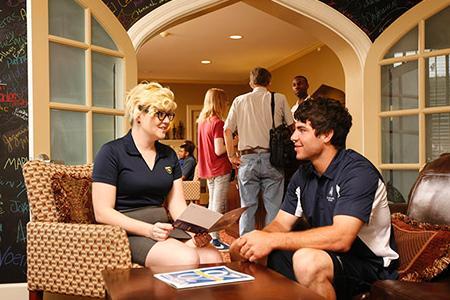 You just started your senior year of high school. Congratulations! And it's already time to start thinking about the next step – college. We've got 3 reasons why you should submit your application to the "Smaller. Smarter." university in Dallas-Fort Worth.
1. The sooner you apply, the sooner you get financial aid
What's the first question that comes to mind when you start thinking about college? Cost.
When you apply early you increase your chance of receiving financial aid. Last year, 84 percent of students applied for and received financial assistance to help pay for their college education. Submit your application early, and make your degree more affordable.
2. Give yourself something to brag about over the holidays
Submit your application early, send us your transcripts and test scores and we can give you an admission decision before the holidays. There's no better time to celebrate your big accomplishment! Your acceptance letter will look great on the fridge and it's sure to make you the talk of holiday dinner.
3. Cut out the stress of last minute college decisions
Don't be that person who waits until the last minute to apply to college. Your senior year should be a blast, not stressing you out. You should be spending the year hanging out with your friends and getting excited about college. Apply early, make your college decision sooner, and enjoy your senior year of high school.
Are you ready to start your application? Great! We knew you would be. It'll only take you 10 minutes. Submit your application to Texas Wesleyan today, and start your journey to become a Ram.

‌