Djuana Young named associate vice president for enrollment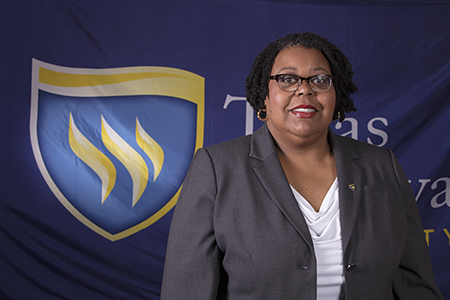 Texas Wesleyan University has named Djuana Young as its new associate vice president for enrollment. Young, who has 29 years of experience in higher education, comes to Texas Wesleyan from the University of Houston. She will begin her new role on Nov. 14.
Young will build on Texas Wesleyan's undergraduate and graduate admissions success, which has seen significant growth in enrollments since the implementation of the University's 2020 Vision strategic plan and award-winning "Smaller. Smarter." marketing campaign, which launched in 2012.
"Texas Wesleyan is thriving and we're thrilled to have Djuana on board to help us continue forward on our strategic plan," John Veilleux, vice president for enrollment, marketing and communications, said. "The region is taking notice of Texas Wesleyan's growth and momentum and we've only just begun. Djuana has the experience we need to achieve, and hopefully exceed, our graduate and undergraduate enrollment goals."
As the University of Houston's Office of Admissions executive director, Young oversaw admissions campaigns that enrolled the largest and most academically prepared freshman classes in the university's history for three consecutive years. She also served as assistant to the vice president of student affairs and enrollment services, where she assisted with developing and implementing the department's strategic plan.
Prior to her eight years at the University of Houston, Young spent six years as the director of admissions at Texas Tech University and 15 years in various financial aid, scholarship and advising roles at Texas A&M University in College Station.
Young earned a bachelor's of business administration in management degree from Texas A&M University, Commerce, and a master's in public administration from Texas A&M University, College Station.
New student center supports admissions goals
This fall, Texas Wesleyan unveiled plans for its $20.25 million Nick and Lou Martin University Center, which will be located in the heart of campus and is the most significant capital project at Texas Wesleyan in more than a century. For the first time, Texas Wesleyan will have a centrally-located hub for student life and engagement in the heart of campus.
The Martin Center will be approximately 44,000-square-feet and two stories tall. It will include a new student and family welcome center, food court, ballroom that can accommodate 300, bookstore and convenience store, spaces for student organizations and student life offices, lounge areas, meeting rooms and additional office space.
"The Martin Center will be the first stop for students and families on our campus tour and the place where our vibrant student life comes together with the entire campus community," Dennis Hall, dean of students, said. "Potential students will really get a feel for 'Smaller. Smarter.' when they visit the student center."
2020 Vision comes into focus
The Martin Center is the next bold step in Texas Wesleyan's 2020 Vision strategic plan. Over the last five years, the University has nearly doubled its endowment, grown enrollment and invested more than $23 million in campus enhancements and improvements.
This fall, the University celebrated its most successful move-in day in history with more than 500 students now living in its residence halls. The revival of the football program, which will begin conference games in the fall of 2017, has added to the invigorated campus community and thriving student life.