Collegiate Academy at Dunbar High School advisory board meets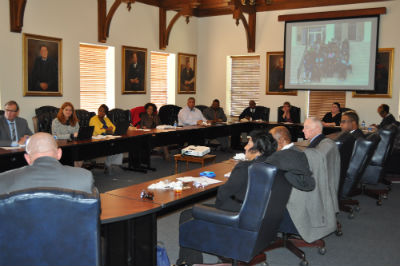 The Collegiate Academy at Dunbar High School Advisory Board meets quarterly to hear updates from Dunbar High School Principal Sajade Miller. The advisory board consists of stakeholders from FWISD, Texas Wesleyan and the Fort Worth community.
There are currently 28 students participating in the first year of the program. Dunbar is expecting an incoming Freshman class of 65 students for the 2017-2018 school year. Enrolled students have the opportunity to graduate from high school with 60 college credit hours completed, saving significant time and money toward their college education. This program will be at no cost to the students.
"Our mission is to prepare all students for college, career and community leadership," FWISD Superintendent Dr. Kent P. Scribner, said. "This community partnership with Texas Wesleyan is in absolute alignment with our focus of providing an opportunity to our students. More than one-third of Texas Wesleyan students are first-generation college students, and more than half are from Tarrant County. The first graduating class would be in 2021. Students would be encouraged to continue their studies at Texas Wesleyan or another four-year university."
‌