Bobby Cornett '72 to receive Wesleyan Flame Award at Alumni Medal Dinner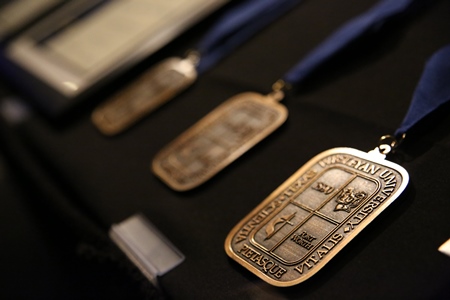 The Texas Wesleyan Alumni Association is pleased to announce the recipient of the 2021 Wesleyan Flame Award, venerable golf coach and mentor, Bobby Cornett '72. The Wesleyan Flame Award is presented to a current faculty or staff member whose commitment and dedication to the University and its students exemplifies the Texas Wesleyan mission and traditions.
The Hall of Fame coach led the Rams from 1985-99 as head coach, then served ten seasons as an assistant coach, while focusing on the National Senior Tour and Senior PGA Tour, before returning to his role as head coach prior to the 2009-10 season. After winning his fourth National Championship and earning his fourth NAIA National Coach of the Year award in 2019, Cornett turned the reins of the program over to Shaun Hensley while stepping into the role of assistant coach.

Cornett is a member of the Texas Wesleyan Athletic Hall of Fame ('86), the Golf Coaches Association of America Hall of Fame ('10) and the NAIA Hall of Fame ('12). He has been named NAIA National Coach of the Year four times while leading the team to National Championships in 1990, 1995, 1999 and 2019.

As a player, Cornett led the Rams to four Big State Conference Championships and an NAIA National Championship in 1969. In 1972, Cornett was named NAIA All-American and was the Big State Conference individual medalist.

After a seven-year sabbatical from golf during which he served as a juvenile probation officer, Cornett made the jump to the professional ranks following a runner-up finish at the 1977 Texas Amateur. As a professional, Cornett won several times while making the finals of the PGA Tour School five times and the Senior PGA Tour School twice.

In 1983, he returned to Texas Wesleyan as assistant golf coach before taking over as head coach in 1985. Over the next 14 seasons, he led the Rams to 63 tournament wins, including four National Championships.

Cornett earned his bachelor's degree in business administration and psychology from Texas Wesleyan in 1972. He and his wife, Denny, have one son, Austin.
About the Alumni Medal Dinner
Each year, Texas Wesleyan University honors distinguished alumni and friends. Their achievements and contributions are amazing reflections of the University, and we are honored to celebrate and recognize them each year.
This year's Alumni Medal Dinner will be held in the Martin University Center on Friday, Oct. 29. The reception begins at 6 p.m., followed by dinner and program at 7 p.m.
The event is open to all alumni, friends, faculty and staff, and tickets are $65 per person. Register online by Oct. 18 to reserve your seat and be sure to register for other homecoming weekend activities as well.
Questions? Contact the Office of Alumni Relations at 817-531-6548 or alumni@txwes.edu.