Technology allows surgeon to keep helping others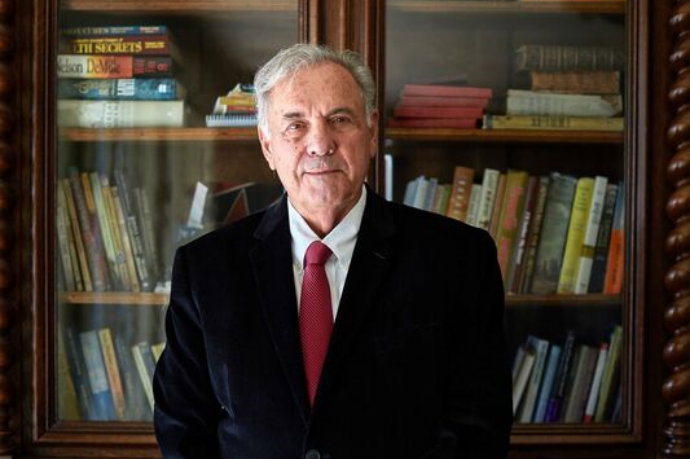 Neurologist Paul Proffitt '67 retired in 2012.
Sort of. He still works full time; he just doesn't leave home to do it.
Five days a week you'll find the "retired" neurologist staring intently at his computer screen as he assists in 10 or more neurosurgical procedures across the state.
His work is part of a growing field known as teleneurology, which remotely puts doctors from across the world into surgical suites. They serve as an extra set of eyes and ears for the doctors in the room.
"I'm connected through an HD audio-visual internet connection to the tech who is at the hospital with the surgeon," Proffitt says. "I monitor neurodiagnostic testing like EMGs, as well as spinal surgeries, disc surgeries, laminectomies, disc extractions."
It allows specialists like him to ward off problems, such as when surgeons are getting too close to a vital structure. "For example, if they have a retractor and it's pulling on a nerve we're monitoring, we can tell them we're getting unusual activity."
Proffitt's path to practicing medicine by remote technology began when he was recruited to Texas Wesleyan's golf team by O.D. Bounds in 1964. He was captain of the team when he graduated in 1967 with degrees in chemistry and biology and a plan to become a doctor.
After earning a D.O. in Kansas, Proffitt returned to Fort Worth to set up a private practice on the south side of town. Seven years later he returned to Kansas for a neurology residency and fellowship, then practiced there for several years.
The 1980s recession prompted a move to Port Arthur, where he was recruited by a colleague to be the first and only neurologist in town.
When Hurricane Rita destroyed his home in 2005, he and his wife moved to Austin to be close to their grown children. Now he practices from his desk in Austin, or one of his vacation homes in North Carolina or Los Cabos, Mexico. The freedom to keep helping others is a benefit that he appreciates.
"I enjoy the work," the septuagenarian says. "It keeps me busy."