Marketing team wins gold for fourth straight year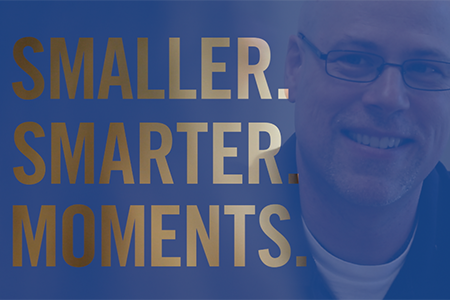 Texas Wesleyan University's Office of Marketing and Communications recently won nine Collegiate Advertising Awards for projects in the "Smaller. Smarter." campaign.
New to the "Smaller. Smarter." campaign in 2015, the 2020 Vision Strategic Plan and Wesleyan Fund projects were awarded a gold and silver medal. Both initiatives have brought special attention to the University's revitalization efforts and commitment to give students a top-tier education at an affordable price.
"These recent awards are representative of a diverse marketing and communication strategy," John Veilleux, vice president of marketing and communications, said. "Our team is working harder than ever to solidify Texas Wesleyan as the 'Smaller. Smarter.' choice in higher education."
Texas Wesleyan won Collegiate Ad Awards for the following traditional and digital marketing projects:
Gold - 2020 Vision Strategic Plan Report
Gold - Admissions integrated campaign
Silver - "Smaller. Smarter." Moments - video series
Silver - Wesleyan Fund Campaign - "Take the Morton Challenge"
Bronze - 2015 "Smaller. Smarter." Commercials
Bronze - 2020 Vision in Focus video series
Bronze - Graduate program video series - School Counseling
Bronze - Texas Wesleyan Student Portal
Bronze - txwes.edu website design
The Collegiate Ad Awards recognize the best advertising professionals in collegiate marketing and strategic communication. Texas Wesleyan competes with other institutions like University of Baltimore and St. Mary's University in San Antonio.
"'Smaller. Smarter' is more than a tagline, it's an essential part of our identity in the marketplace," Darren White, associate vice president of marketing and communication, said. "These awards push our team to continue creating work that draws students to Texas Wesleyan and its top-tier education."
In recent years, the marketing team has won more than 40 awards for outdoor advertising and design, direct mail, email marketing and more. Last year, they were recognized by the American Advertising Federation Fort Worth Chapter, also known as the ADDY Awards for two gold and one silver medal. The marketing team is eagerly awaiting the announcement of the 2015 ADDY Awards in March.