Watch Coach Jeffcoat's 500th career win story on NBC 5 Sports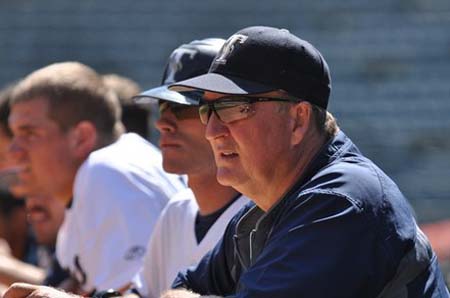 Head Coach Mike Jeffcoat has reached a career milestone with his 500th Texas Wesleyan win! Jeffcoat is the program's all-time winningest coach. His record now stands at 502-350-1 (.589) in 16 seasons.
About Jeffcoat
Mike Jeffcoat began his tenure as head baseball coach in 2002. The 10-year Major League veteran has led Texas Wesleyan to eleven 30-win seasons during his 15-year tenure. He is the program's all-time leader in coaching wins with an overall record of 482-343-1 (.584).
Under Jeffcoat's guidance, Texas Wesleyan has become one of the premier baseball programs in the NAIA. He has led the Rams to the Regional/NAIA National Championship Opening Round tournament in seven of the last eleven seasons. In four of those seasons (2007, 2009, 2010, and 2013), the Rams reached the final of that tournament, just shy of the NAIA World Series.
Jeffcoat has coached numerous players who have gone on to professional participation. Four of his players have been selected in the Major League Baseball Draft, including Henry Yates, who was the second NAIA Player selected when he went to the Los Angeles Dogers in the ninth round of the 2013 draft. Jeffcoat has coached 83 All-Conference players, four conference Pitchers of the Year, four NAIA All-Americans, and nine NAIA Scholar-Athletes.
Last season (2016), Jeffcoat led the Rams to 39 wins and a Sooner Athletic Conference (SAC) Regular Season Championship, and he was named SAC Caoch of the Year. The team featured seven All-Conference selections and a school record six NAIA Scholar-Athletes. During the season, the Rams notched a 17-game winning streak, were ranked as high as 20th nationally, and made the program's seventh appearance in the NAIA National Tournament Opening Round.
Jeffcoat was born and raised in Pine Bluff, AR, where he excelled as a high school pitcher. He attended Louisiana Tech University on a baseball scholarship, but left before his senior year to sign a professional contract with the Cleveland Indians. He would later complete his degree in physical education in 1986. On August 21, 1983, Jeffcoat made his major league debut against the Seattle Mariners, and on September 18th, he out dueled the Yankees' Dave Righetti for his first major league victory.
In May of 1985, Jeffcoat was traded to the San Francisco Giants, where he remained until becoming a free agent at the end of the 1986 season. He then signed with the Texas Rangers and spent the next six years in Arlington. In 1989, Jeffcoat had arguably the best year of his career, posting a 9-6 record in 22 starts, with a 2-to-1 K/BB ratio and a 3.58 ERA. On August 2, 1991, Jeffcoat doubled home a run in the 9th inning of a 15-1 victory over the Milwaukee Brewers, making him the first American League pitcher since the inception of the designated hitter rule in 1973 to record an RBI in a regular season game. He also became the first American League pitcher to record a hit since the Rangers' Ferguson Jenkins did so in 1974.
Although Jeffcoat finished his career with the Florida Marlins in 1994, he has continued to make his home in the Metroplex. He currently resides in Arlington with his wife Elaine.