Faculty Scholars Recognition Reception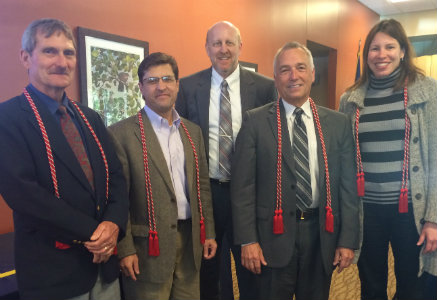 When:
Apr 19, 2016 2:00 PM - Apr 19, 2016 3:00 PM
At this recognition ceremony,Texas Wesleyan University honors the 2016 recipients of the Faculty Scholar Award. The Wesleyan community is invited to attend the Faculty Scholars Recognition reception to celebrate the accomplishments of our distinguished faculty.
The keynote speaker is Dr. Robert Graalman, founder and retired Director of the Oklahoma State University (OSU) Office of Scholar Development. The title of his keynote presentation will be "Everyone Wins: A Model and Rationale for Campus Involvement in Prestigious Scholarship Competitions." In his address to Wesleyan faculty, Dr. Graalman will speak about the advantages of a carefully structured plan to challenge and support students beyond their expectations, encouraging them to refine their talents and sharpen their skills for success as they prepare to enter graduate school or the professional world.
Refreshments will be served following the ceremony.
A roundtable discussion for faculty and students will also be included as a part of this year's event, which will be an exchange of ideas on student scholar development and information on preparation for and application to prestigious national and international scholar programs. Dr. Graalman will lead the roundtable discussion from 3:30-4:30 pm at Lou's Place.