Employees Received the Star Treatment at Health & Benefit Fair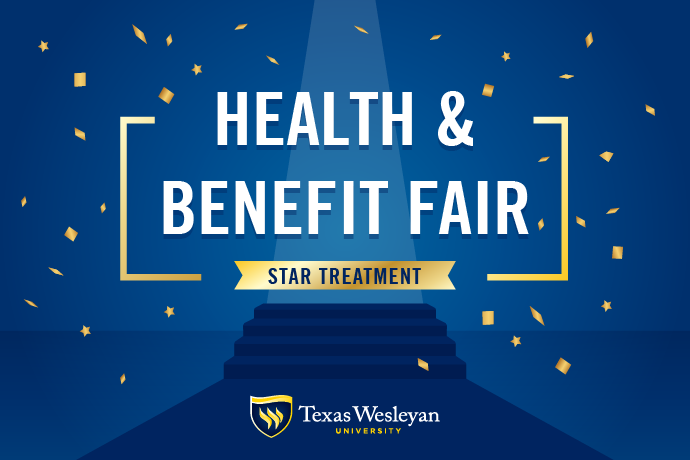 This year the Office of Human Resources went all out for the Health & Benefit Fair. Since 2020, the world has had to be very careful about events due to COVID-19, and our campus was not immune to that. The majority of our annual events, especially indoor events, were almost obsolete for two years.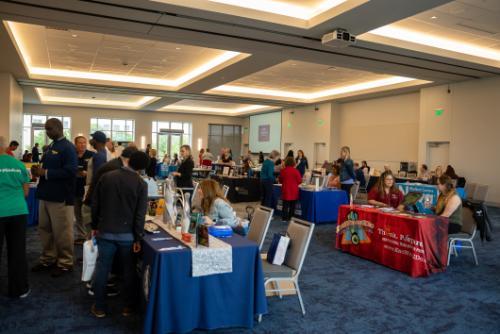 The last Health & Benefit Fair that human resources hosted was back in 2020, right before the world shut down. "We wanted to give our faculty and staff something big and fun," said Lindsay Trammell, human resources coordinator. "The whole department was ready to pull as many stops as we could, and Kim Stergio had been reaching out to different vendors to come this year since October of 2021."
Human resources even had a Health & Benefit Committee this year, something new to the mix. Dr. Lisa Taylor and her committee hit the ground running to make sure that this year's fair was the best of the best. "I believe it was a great success," Dr. Taylor shared in an email. "I enjoyed working with the human resources staff. We had a good time!"
What made it a success? For starters, this year's theme was "Star Treatment." A small red carpet was rolled out, a photo booth was set up on the north side of the ballroom and all of the vendors were ready to give all of our faculty and staff personalized star-studded treatment.
With over 25 vendors, the fair did not disappointment. A few things that made this year special was the different free screenings and tests that were offered. Among those was a carotid artery screening from a TXWES favorite, Star Wellness. Dr. Kay Colley was one of the 50+ employees that were able to take advantage of the screening. "I was happy to be able to sign up for the CA screening – that made the fair better than previous years," Colley said.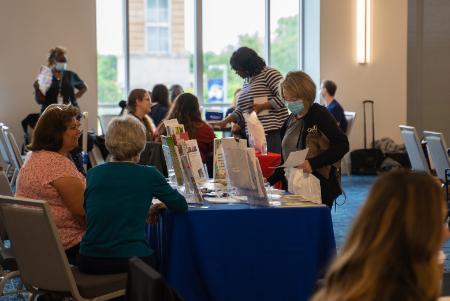 There were also free mammograms, blood pressure screenings, chair massages and other free screenings. Brenton Flowers was also impressed by the diversification of the vendors, stating, "The diversity of health merchants at this year's fair was my favorite part of the event. Each vendor provided mental and physical health-related services."
One of the biggest vendors this year was Baylor Scott & White with five different stations to visit. Texas Health came in a close second and offered COVID-19 vaccinations and boosters. New head Athletic Trainer Ritchy Hitoto was impressed, "It was my first Health & Benefit Fair here at TXWES. It was well organized and professional. One of my favorite tables was the nutrition table with Denice Ford with Perfect Health Holistic Institute."
Louis Sherwood and Tamika Johnson were two of the several employees who won a door prize at the end of the day. "I can't believe I won," declared Sherwood. Sherwood won a foot spa, and Tamika Johnson the grand door prize: a basket full of goodies and a $50 gift card from EECU. There were other amazing prizes donated by the vendors and supplied by HR.
Stay tuned for news about our next Health & Benefit Fair in 2023. If you are interested in being a part of the fun and would like to volunteer for next year's planning committee, please contact Kim Stergio at kastergio@txwes.edu