Annual Alumni Medal Dinner honors achievements of our graduates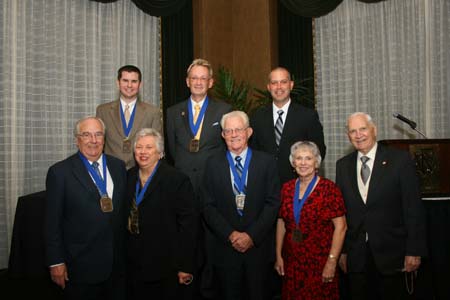 Of the many traditions at Texas Wesleyan University, few are more cherished than the annual Alumni Medal Dinner. The event celebrates the excellence and success of our alumni – and those who are so dedicated to Texas Wesleyan that they earn the status of honorary alumni.
This year's dinner will be held on Friday, Oct. 18, at Ridglea Country Club, with the reception at 6 p.m. and dinner at 7 p.m. Our distinguished honorees include athletes, business owners and scholars. The recipients carry on Texas Wesleyan's tradition of excellence and make their alma mater proud with their accomplishments.
2013 Medal Dinner Recipients
Awarded to an outstanding alumnus or alumna whose service and loyalty to the University, community involvement and personal accomplishments merit the honor
Distinguished Alumni Award: Dr. Bill Leonard '68
Awarded to a Texas Wesleyan graduate whose achievements have distinguished him or her in a broad (national or international) sense
Honorary Alumni Award: Louis "Mac" McLain
Awarded to a non-alumnus whose contributions to students, alumni and the life of the University merit special recognition
O.D. Bounds Award: Dr. Terri Mossige '94
Presented to an alumnus or alumna involved in athletics who exemplifies the work, character and contributions made by the late O.D. Bounds Jr., BS '41, a beloved Texas Wesleyan faculty member, coach, volunteer and friend
Wesleyan Flame Award: Dr. Elizabeth Alexander
Presented to a current faculty or staff member whose commitment and dedication to the University and its students exemplifies the Wesleyan mission and traditions
Wesleyan Service Award: David D. Martin MBA '04
Awarded to a Texas Wesleyan graduate whose service to the University and its alumni has contributed specifically to the success of the Alumni Association and its programs
Awarded to an alumnus or alumna within ten years of graduation to recognize outstanding personal or professional achievement
Note: The photo features the 2010 recipients.