Stella Hall renovations underway, set to make big impact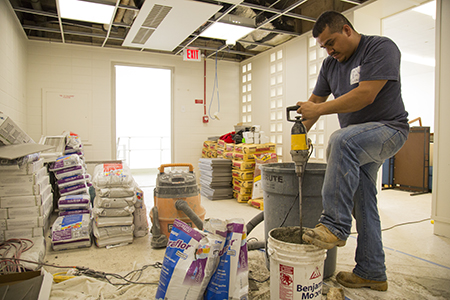 A worker mixes cement at Stella Russell Hall. The cement will be used to level the restroom and shower floors prior to the installation of new tile flooring.
It's Stella's turn for a makeover.
This summer, a team of contractors, led by the facilities department, is working full-steam ahead on a range of renovations and repairs to Stella Russell Hall.
"We think students are going to be very excited when they return in August," Brian Franks, executive director of facilities development and operations, said. "We had to wait until summer, when students are on break, to begin the major projects we've been planning for months."
Projects range from new ceiling tiles and paint, to renovated showers, flooring and new kitchen appliances.
Jon Bartlett, assistant dean of students and director of residence life, says the updates will improve the overall sense of community at Stella Hall.
"We not only want to provide a safe and comfortable place to live for our residents, but a space they are excited to call home," Bartlett said.
Last summer, major renovations were made to James C. Armstrong & Elizabeth Means Armstrong Hall and James C. Armstrong & O.C. Armstrong Hall. In spring, a newly renovated Dora's Dining Hall opened its doors to campus. Now, it's Stella's turn.
Here's a look at the many projects underway at Stella Hall:
New ceiling and shades
Beginning with new paint throughout the residence hall, contractors are giving the interior a complete fresh "face." This includes the replacement of ceiling tiles in the common area and hallways, as well as new window shades.
Kitchen and flooring
Crews will also install new LVT (Luxury Vinyl Tile) flooring throughout the common area and remodel the kitchen. The kitchen remodel includes new appliances, cabinets, flooring and stonework, similar to the stone design seen in Dora's Dining Hall.
Restrooms and showers
Work has already begun on the complete renovation of the restroom and showers. New showers, tile work, toilets and vanity areas will modernize the space and create an area that will look and feel brand new to new and returning residents.
Updates from Residence Life
The Office of Residence Life is also contributing to the Stella makeover by bringing in a new pool table for students in the common area, as well as new furniture and décor.
Up next: Elevator
As part of the new capital budget that was approved by the Board of Trustees last April, Stella is slated to receive a new elevator in 2016.
All part of the 2020 Vision
Campus improvements and enhancements, like the renovations to Stella Hall, are a key part of the University's 2020 Vision, the strategic plan that defines Texas Wesleyan's priorities and serves as a roadmap to educational excellence.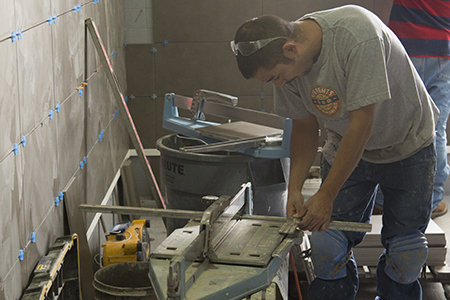 Workers are installing new tiles on the restroom walls at Stella Russell Hall. The renovations will modernize the space.