Texas Wesleyan and TCC announce new articulation agreements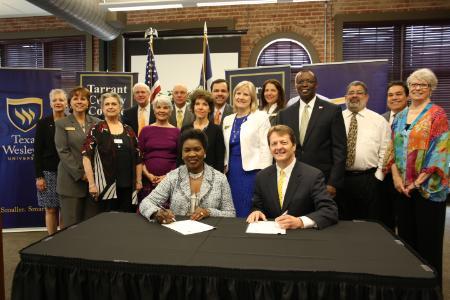 Read more about the articulation agreements and scholarship in the Fort Worth Star-Telegram and Fort Worth Business Press.
Tarrant County College and Texas Wesleyan University officials came together on May 7 to announce revised articulation agreements, reaffirming the long-standing partnership between the two schools.
Signed by Texas Wesleyan President Frederick G. Slabach and TCC Chancellor Erma Johnson Hadley in a ceremony in Texas Wesleyan's Baker Building, the revised agreements represent their mutual commitment to making transferring to Texas Wesleyan easier for students.
This announcement shortly follows the launch of Texas Wesleyan's new Smaller. Smarter. Promise Scholarship, a scholarship that offers free tuition for qualifying transfer students.
New articulation agreements
The articulation agreements are formal agreements between TCC and Texas Wesleyan that outline which credit hours are transferrable toward a degree plan. The agreements save students' time and money by ensuring that completed courses at TCC count toward a Texas Wesleyan bachelor's degree.
"We continue to grow our long-standing partnership with TCC to benefit students and the entire Tarrant County community," President Slabach said. "Together, we are simplifying the process of transferring in to our bachelor's programs."
Chancellor Hadley, alongside several TCC officials, visited Texas Wesleyan for the signing, demonstrating their commitment to the schools' partnership.
"The articulation agreements allow us to build on our already successful relationship with Texas Wesleyan University by further streamlining the process for Tarrant County College students to transfer to Texas Wesleyan when ready," said Chancellor Hadley. "We are serious about our role as advocates for our students and view this agreement as another opportunity to bolster their numbers beyond the current 50 percent who comprise Wesleyan's transfer students."
TCC Associate of Arts or Associate of Science degree students will receive junior standing and credit for their Texas Wesleyan core classes. A student who completes the state Core Complete curriculum requirement of 46 hours receives credit for their Texas Wesleyan core. For many transfer students, a religion course may also be required, if not already taken.
Texas Wesleyan's Smaller. Smarter. Promise.
In addition to the agreements, Texas Wesleyan launched a new scholarship that offers free tuition to transfer students. The Smaller. Smarter. Promise Scholarship will pay 100 percent of tuition for qualifying students who transfer from any regionally accredited college or university and have completed at least 42 credit hours.
"We are excited about this scholarship – how it opens doors for more students to attend Texas Wesleyan who may not have previously considered a smaller, private university," Slabach said.
In addition to the credit hour requirements, students must also have a 3.0 or higher cumulative GPA, be a first-time Texas Wesleyan student and be eligible for the full amount of Federal Pell Grant. Students will automatically apply for the scholarship when they submit their application for admission. If eligible, they will have to maintain a 3.0 GPA each semester until graduation in order to keep the scholarship.
For more information about additional qualifications visit txwes.edu/smarterpromise.