Alex Schies gets fourth first team All-America award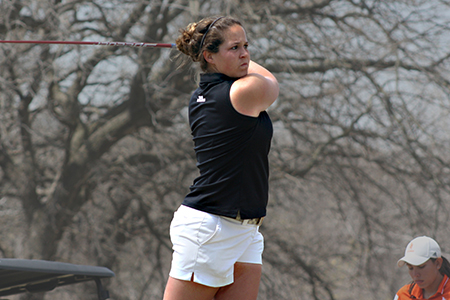 Texas Wesleyan's Alex Schies finishes a drive.
The National Association of Intercollegiate Athletics has announced the 2018 NAIA Women's Golf All-America teams, as selected by the NAIA Women's Golf Coaches' Association All-America Committee. Alex Schies, a recent business finance grad, won the award for the fourth time in as many years.
Schies made it a perfect four for four, adding the award to an already overflowing trophy case. Schies is by far one of the most decorated student-athletes in school history. Shies has the rare distinction of being a four-time SAC Player of the Year, owns every individual school record, and is the only women's golfer to compete at the National Tournament in all four seasons.
In 10 tournaments this season, Schies has finished in the top-5 seven times including four wins, winning back-to-back tournaments on two separate occasions. She won her second consecutive SAC Individual Championship, while leading the Rams to their first conference title. It was the eighth career tournament victory for the four-time All-American.
A total of 45 student-athletes were honored, with 15 individuals being named to each of the three teams. 23 of the 45 All-Americans won the award for the second consecutive year.
The Lady Rams made their fourth appearance at the National Championship in just their sixth year of existence, finishing 15th out of 30 teams.
Schies joins an impressive cast of Texas Wesleyan student-athletes to earn national honors in the 2017-18 school year, as 11 student-athletes from six different sports reached All-American status. Six of those student-athletes were given first-team honors.