Kiki Menendez named SABR Player of the Year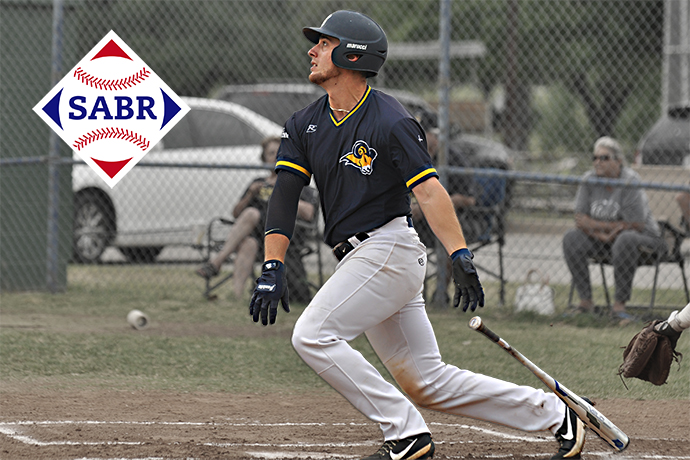 DALLAS – Kiki Menendez was named the seventh recipient of the SABR Metroplex Carroll Beringer Award College Division Player of the Year Award presented by the Ernie Banks-Bobby Bragan DFW Chapter of the Society of American Baseball Research.
Menendez, a 6-2, senior outfielder from Austin, Texas, was the first Wesleyan standout in the school's 49-season baseball history to be named National Association of Intercollegiate Athletics Player of the Year as well as being NAIA first team All-America.
The young outfielder who starred for head coaches Mike Jeffcoat and Bobby Garza led NAIA with 26 home runs while batting .466 (third nationally) for the Rams with a NAIA-topping .995 slugging percentage – all three statistics established school season records for Wesleyan.
He also nailed down school records with 89 hits and 190 total bases (also topping NAIA individual stats for '18) and drove in 84 runs (tied for second in NAIA) - seven off the school RBI record of 91. The Austin resident had a school-best 21-game hitting streak.
The senior exercise science major also set Wesleyan records with a streak of 30 consecutive games reaching base safely, five hits in a game and three home runs in a Sooner Athletic Conference postseason tourney contest.
Menendez established Wesleyan career marks with a two-season career batting average of .437 and .836 slugging percentage. He assisted the Rams in making the finals or semifinal rounds of the SAC tourney in back-to-back years and a composite record of 83-31 in 2017 and '18. He finished with 10 stolen bases in 14 attempts as a senior.
The Los Angeles Angels signee hit safely in 46 of the 51 games he played in 2018 and is the 42nd Wesleyan baseball stalwart to sign or be drafted by MLB since 2002.
Both awards laurels celebrate the memories of the late SABR Metroplex chapter original president Green, who was a legend in Texas professional and college baseball circles for over six decades and also served in several elected capacities in Tarrant County; and former Fort Worth Cats standout and longtime SABR member Beringer, who pitched in professional baseball for 14 years, was the 1959 Texas League Player of the Year with the Fort Worth Cats and served as the bullpen coach for the Los Angeles Dodgers (1961-72) and Philadelphia Phillies (1973-78).
Interestingly, both Granberg and Menendez starred as Cisco (Texas) College before transferring to their respective Metroplex universities.
They join the likes of previous SABR awardees such as San Francisco Giants' star Hunter Pence (Major League Baseball All-Star) as well as Michael Choice of UTA, TCU's Brandon Finnegan, Scott Malone and Lance Broadway as well as DBU's Drew Holder, Brandon Harper, Evan Bigley, Jason Krizan, Brandon Koch, and Boomer Collins (who also starred at TCU and Texas A&M), among others.
Previous winners of the Howard Green SABR Metroplex College Baseball Player of the Year have been Scott Malone, TCU, 1993; Jason Parsons, Dallas Baptist, 1994; Johnny Issom, Texas Wesleyan, 1995; Karl Chatman, Dallas Baptist, 1996; Brandon Harper, Dallas Baptist, 1997; Royce Huffman, TCU, 1998; Cody Sundbeck, Dallas Baptist, 1999; (co) Jon Browder, Dallas Baptist; Pat Hannon, Texas Wesleyan, 2000; Mike Hall, Texas Wesleyan, 2001; Terry Trofholz, TCU, 2002; Clayton Jerome, TCU, 2003; Hunter Pence, UT Arlington, 2004; Lance Broadway, TCU, 2005; Drew Holder, Dallas Baptist, 2006; Sam Demel, TCU, 2007; Evan Bigley, Dallas Baptist, 2008; Matt Otteman, UT Arlington, 2009; (co) Michael Choice, UT Arlington; Matt Purke, TCU, 2010; Jason Krizan, Dallas Baptist, 2011; Boomer Collins, Dallas Baptist, 2012; Duncan McAlpine, Dallas Baptist, 2013; (co) Brandon Finnegan, Preston Morrison, TCU, 2014; Brandon Koch, Dallas Baptist, 2015; (co) Darick Hall, Dallas Baptist; Luken Baker, TCU, 2016; Austin Listi, Dallas Baptist, 2017; Devlin Granberg, Dallas Baptist, 2018.
Carroll Beringer Award: Chase Brown, UT Dallas, 2012; Elvin Rodriguez, Northwood, 2013; Jake Howeth, Texas Wesleyan, 2014; Brandon George, UT Dallas, 2015; Conner Combs, East Texas Baptist, 2016; Luis Roman, Texas Wesleyan, 2017; Kiki Menendez, Texas Wesleyan, 2018.