Men's basketball player named SAC Player of the Week for 2nd time in three weeks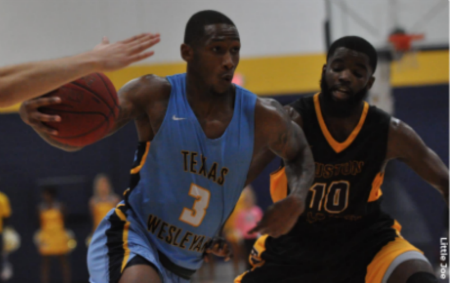 Texas Wesleyan University's Branden Jenkins has been named Sooner Athletic Conference Men's Basketball Player of the Week for the second time in three weeks. The senior guard earned the award once again for his performance during the week of Jan. 15-21.
Jenkins, a senior guard out of Chicago, IL, averaged 27 points and seven rebounds per game in wins over Southwestern Assemblies of God University at Southwestern Christian University. He shot 55 percent from the field and 44 percent from three-point range while raising his season scoring average to 22.5 points per game, which ranks fifth in the NAIA.

Jenkins' performance helped the Rams rise to a tie for first place in the conference standings at 7-3 in league play. The team picked up wins over SAGU and SCU as well as a forfeit from the now defunct St. Gregory's University, pushing its win streak to seven games.

The Rams have been the hottest team in the NAIA since New Years. They have not lost, while shooting 50 percent from the field, averaging 94 points per game, and outscoring their opponents by an average of 13.2 points.

The two-time defending SAC regular-season champion Rams are now tied for first in the SAC with 11th ranked Wayland Baptist and 15th ranked Science & Arts (OK).