Eugene Frier joins Student Life as assistant dean of students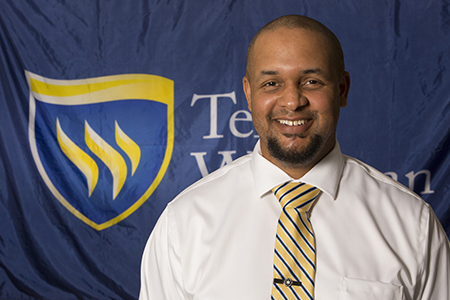 Eugene Frier has joined Texas Wesleyan as assistant dean of students for student engagement. In his role, Frier will supervise multicultural programs, student organizations, student leadership, Greek life and student activities in the office of student life.
Frier comes to Texas Wesleyan with 11 years of experience in higher education.
"Eugene's experience, insight, vision and ability to cultivate relationships is exciting for student life and for the student experience," Dennis Hall, dean of students, said.
Frier has a vast knowledge of student engagement and building community, as well as strong experience in developing initiatives and individuals through his role as associate director for residence life at the University of North Texas.
While at UNT, Frier was responsible for supervising all of the full-time hall directors that lived in the residence halls. He also directed the efforts of recruitment, selection, training and evaluation for the entire 250-person residence life paraprofessional staff and professional staff.
Frier also served as the primary advisor for the Residence Hall Association, National Residence Hall Honorary, Residence Life Advisor Council, North Texas Eco Reps, the UNT Nerdfighters and the GeeKon student organization.
Prior to his role as associate director, Frier was UNT's coordinator for residential education, coordinator for academic initiatives & assessment, and was a head hall director for housing and residence life.
Frier has a bachelor's degree in sociology with a minor in ethnic studies from UNT as well as a master's in education with an emphasis in student affairs administration from UNT.
Frier currently resides in Denton with his wife and three dogs and is an avid supporter of Liverpool Football Club and a very proud geek. One of his life highlights was getting to present at San Diego Comic Con in the summer of 2013 and 2014 on a panel with other higher education staff members about the intersection of geek culture/identity with the college experience.