Texas Wesleyan Mortar Board chapter receives national honors
The Texas Wesleyan Mortar Board chapter was among 36 chapters to receive the prestigious Gold Torch Award at the annual national conference, which was held in Phoenix, Arizona in August.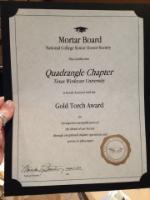 Each year the Mortar Board National College Senior Honor Society presents the Gold Torch Award to the most exceptional chapters of Mortar Board. The award is given to chapters that show excellence in areas of chapter operations while also promoting scholarship, leadership and meaningful service to their institutions.
About Mortar Board
Mortar Board recognizes college seniors for outstanding achievement in scholarship, leadership and service. New members are selected by application each spring.
For more information about Mortar Board, contact Dr. Michelle Payne, faculty advisor, or Lori King-Nelson, 2015-2016 President.