TXWES Reads The Book Thief Spring 2020 Events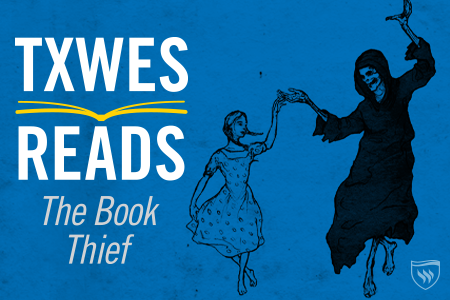 Join West Library as we continue TXWES Reads events for The Book Thief during the Spring 2020 semester. The purpose of the TXWES Reads program is to bring the Texas Wesleyan community together and to encourage students, staff and faculty to join together to read and discuss the same book.
The Book Thief is a fictional account of a young girl growing up in Nazi Germany before and during the Second World War. It was published in 2005 and became an international bestseller, was translated into 63 languages, and made into a movie in 2013. It was nominated as one of America's best-loved novels by PBS's The Great American Read.
Events:
Movie marathon, Thursday Feb. 13
Join us on the 2nd floor of West Library while we show The Book Thief movie from 9 a.m. to 7:30 p.m. Come for a short while between classes, or stay for an entire viewing. Pizza will be available for participants during lunchtime, with light refreshments served throughout the day.
Faculty discussion panel, Tuesday Feb. 25
Join us during Free Period in the Orientation Room as Dr. Linda Carroll and Dr. Chris Ohan give literary and historical perspectives of the book, and compare and contrast the book and the movie. Light refreshments will be served.
The Boxcar: Piecing Together History, Tuesday Mar. 31
Join us during Free Period in the Orientation Room as Ron Siebler, Historic Preservationist, shares his experience about his project of restoring a "Nazi-era boxcar used by the German Army during WWII." The boxcar is part of the Holocaust/Shoah wing permanent exhibition at the Dallas Holocaust and Human Rights Museum. Light refreshments will be served.
We look forward to seeing you at our events. Reading the book is not a requirement for attending!